COLLABORATION WITHOUT CHAOS
Corporate Tax Compliance Software Platform
Tax transformation software for GPs, LPs, and accounting firms to securely digitize and distribute alternative investment data. Standardize, streamline, and automate K-1 and 990 workflows…all in one place.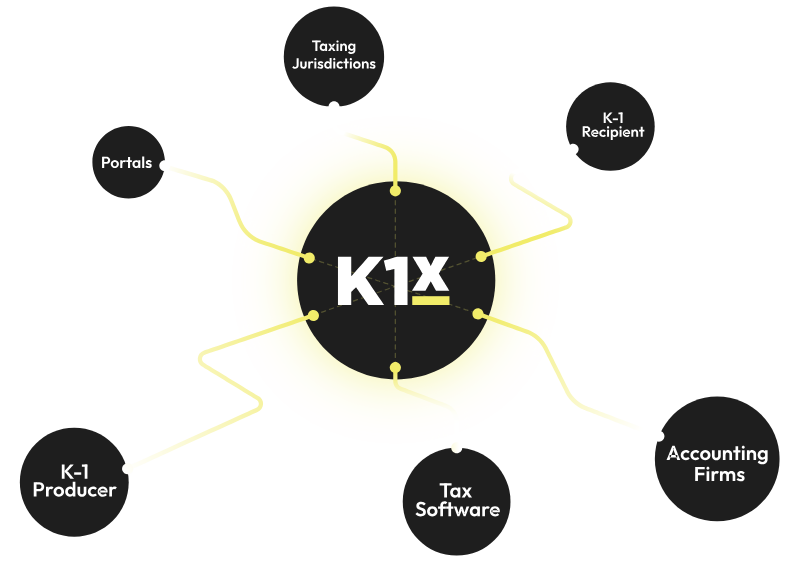 Our patent pending tax technology created the world's first Digital K-1™ experience
A tax technology workspace made for sharing your alternative investment data
RECEIVE
AI-powered data extraction
Auto validation of taxable income
Embeded tax guidance analytics
PRODUCE
Wizard-driven guidance for tax fillings
Standard workflow & schema
Universal footnote library
EXCHANGE
Secure environment
Instant digital transfer
Auto matching of Investors to funds
improved staff engagement, retention and elevation
90

%
manual data entry
elimination
hours of time restored
each week
+

26

%
savings in end to end
processing costs
Automate Receipt
of K-1's
Automatically aggregates federal K-1 and K-3, state and foreign disclosure data for portfolio-level review and reporting
Filterable/customizable data reports and exports for deep risk analysis, review, and Excel output options
Embedded project management and review features to keep the process running smoothly
First-ever fully digital investor K-1 packages, including footnotes, allocations, and white paper statement data
Complete K, K-1, K-2, and K-3 and 42 state taxing jurisdiction
Instant Digital PDF creation options — compatible with existing portal providers
Automate 990 Exempt Reporting and Filing
IRS approved e-filing for 990, 990-PF, 990-EZ, 990-T, 4720,
and 8868 + support for all 42 state taxing jurisdictions
Master Compensations Module with
reporting across multiple entities
Conflict of Interest modules to manage board questionnaires
Collaboration with leading edge companies to extend your workspace
"K-2s and K-3s also used to be a nightmare for us. Now we have drag and drop and integration with important third-party software. We use K1x to help us do our 20 state returns –and to file on time without the hassles and wasted time."
Take the K-1 Test Drive!
Put us to the test. Send us up to 10 of your PDF K-1s. We'll process them in front of you using our patent-pending AI automation software…in minutes.