Blog
Chuck Rettig joins K1x board of directors to accelerate digital data distribution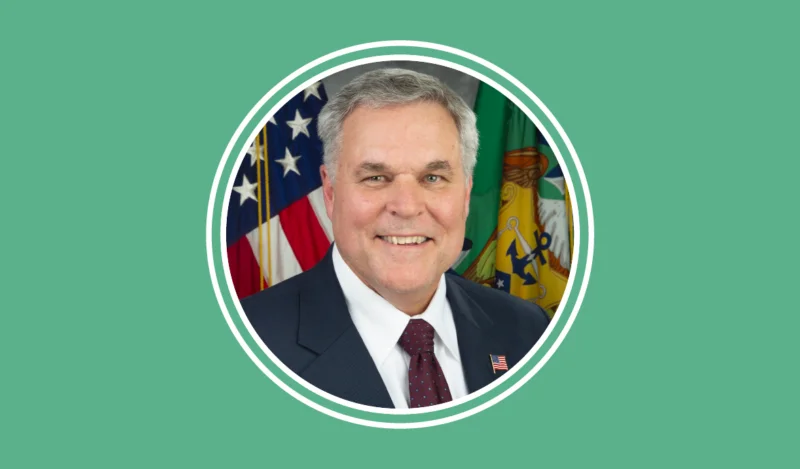 BY Scott Turner
September 11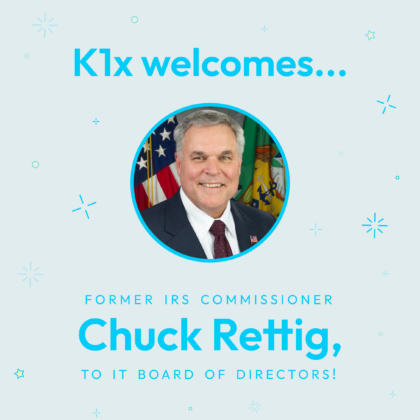 Former IRS Commissioner Charles (Chuck) Rettig is joining K1x efforts to digitize data distribution for alternative investment tax compliance. For too long, IRS Schedule K-1 and K-3 tax form preparation has required arduous and complex manual processes. Chuck believes a digital K-1 is long overdue and wants to evangelize our endeavor to disrupt the industry.
"I witnessed firsthand the tax industry's challenges with alternative investments. The digital K-1 is finally happening. Joining K1x's board of directors enables me to support their efforts to revolutionize alternative investment management by digitizing and distributing data between the folks who need it. K1x is bigger than tax software — the company is remaking how an entire industry goes about its business"
CHUCK RETTING, FORMER IRS COMMISSIONER

A tax policy expert, Chuck served as IRS commissioner from 2018-2022 under presidents Trump and Biden. Before that appointment, he spent 35 years as a certified specialist in tax, estate planning, and trust and probate law at Hochman, Salkin, Rettig, Toscher & Perez.
"Chuck's familiarity and insight into tax law uniquely qualify him to help us usher in a new era of tax compliance for alternative investments," said K1x CEO John LaMancuso. "Working together, we are disrupting the industry. Tasks that once took hours now take only seconds at nearly 100% accuracy. Our automation improves the lives of talented, hard-working tax professionals and helps address the industry's unsustainable attrition rate.
With guidance from Chuck and the rest of our board, K1x is removing complexity and restoring transparency, benefitting tax professionals, investors and the economy."
"With guidance from Chuck and the rest of our board, K1x is removing complexity and restoring transparency, benefitting tax professionals, investors and the economy."
The K1x software solution is the first-ever all-digital K-1 packet production platform. The software operates in lockstep with the new Paperless Process Initiative from the IRS. Many K1x clients have already successfully streamlined K-1 processes.
Digital tax data distribution solves many challenges.
By linking together all parties—General Partners (GP), Limited Partners (LP), and accounting firms—in a unified, secure sharing environment, K1x creates a streamlined workflow like never before. This technology ushers in a new era in family office and private wealth management, significantly reducing inefficiencies and creating the utmost transparency.
Addressing high turnover and monotonous work
The tax profession experiences high turnover among accountants and auditors. More than 300,000 people have left the industry in just the last two years, and fewer college graduates are entering the field.
"For decades, tax professionals have spent countless nights and weekends completing archaic paper-based processes. The digital K-1 frees these talented individuals from monotonous tasks, helping them to focus on higher-value activities that drive growth, foster client relationships and improve job satisfaction," said Chuck.
K1x eliminates over 90% of manual data entry and costs and saves over 26% in end-to-end data processing task time. Each team member gets 11 hours back each week for more valuable work.
90%+
of manual data entry elimated

Enhancing accuracy and efficiency
Current analog and manual processes are susceptible to human errors. Automated processing for paper-based submissions has an almost 25% fallout rate. In contrast, the fallout rate is about 5% when submitted electronically. The adoption of the digital K-1 significantly reduces these mistakes. Our platform automates calculations, cross-referencing and data validation to ensure greater accuracy and minimize the risk of penalties or audits. This digitized approach enhances efficiency for tax professionals, taxpayers and the government preserving valuable time and resources for all.
Our digitization efforts align with new IRS plans to offer digital correspondence for the 2024 tax season and paperless processing for tax returns in 2025. In an interview with CNBC, Chuck stated that the initiative is a win-win.
Streamlining capitalism and fostering transparency
Alternative investments play a vital role in the financial future of our country, but their complexities often hinder transparency and hamper decision-making. Our efforts to digitize the alternative investment data distribution process enable speed and transparency. Real-time data insights and standardized reporting help investors, auditors and regulatory bodies make more informed decisions, reducing information asymmetry and promoting fair market practices. This digitization benefits investors while contributing to the overall health and stability of the U.S. financial market.
"The shift to a digital K-1 is not just about catching up with technological advancements; it's about staying ahead of the curve."
Now is the time for digitization
"The shift to a digital K-1 is not just about catching up with technological advancements; it's about staying ahead of the curve. By embracing digitization, K1x enables proactive tax planning, real-time compliance monitoring and improved experiences for investors and their advisors. Advisors can now shift their focus from reactive problem-solving to proactive decision-making, fostering an environment of trust, efficiency and growth," said Chuck.
Chuck joins a superstar board of directors, including K1x CEO John LaMancuso, President Geralyn Hurd, David Eisner, Josh Linkner and Jennifer Lee. We will build on our momentum to lead the way in alternative investment data distribution.
Trusted by more than 8,000 organizations, K1x is the only AI-powered platform that streamlines alternative investment data distribution for investors and advisors.
Learn more about how you can streamline, standardize, and simplify your K-1 and
990 processes.