Case Study
Large US insurance company automates K-1 processing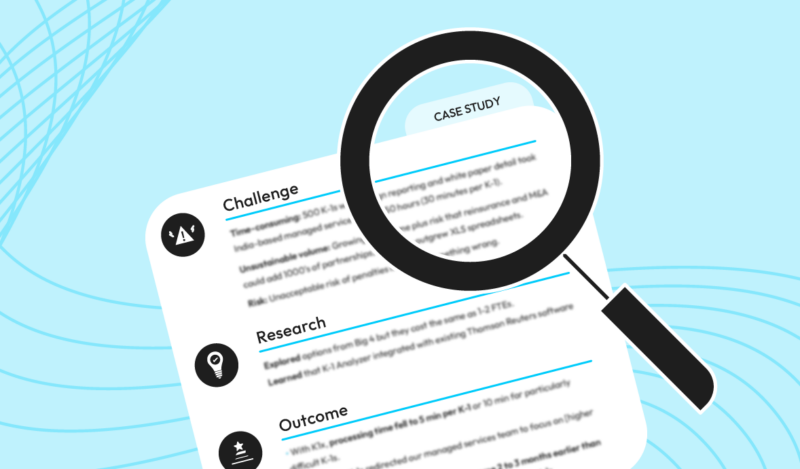 BY Scott Turner
November 6
CASE STUDY:
Large US insurance company automates K-1 processing

3-6X faster K-1 data extraction and analysis frees time for higher value review and earlier taxable income estimates
A large insurance company in the US had been struggling with the complexity of K-1s, foreign reporting, and white paper details for a while. In addition to its organic growth of 50-100 partnerships annually, the tax compliance team was concerned at the possibility of adding possibly thousands of additional K-1s due to substantial reinsurance and M&A activities in their industry.
The company found that the manual K-1 process was no longer feasible due to the time it consumed, and the risks of penalties associated with errors. They had outgrown XLS spreadsheets. So they began a search for scalable K-1 automation solution as a hedge against future challenges.
The company initially engaged Big 4 accounting firms, but the proposed solutions cost the equivalent of hiring one to two full-time employees (FTEs). As the company was experiencing rapid growth in partnerships, hiring a couple of FTEs might only have provided a temporary fix.
Their research pointed them to K1x and its integrations with Thomson Reuters (TR) products—an attractive proposition given their existing relationship with TR and reliance on their tax software. Tax compliance team added, "We initially had two reasons for hesitation 1) compatibility with our existing software and 2) whether it is accurate enough. We were pleasantly surprised and have had a really good experience."
K-1 Time-savings/labor savings:
By automatically extracting data from K-1 forms, the implementation of the K1x platform revolutionized the company's tax compliance approach. Before, the managed services team required about 30 minutes per K-1, amounting to 250 hours to process their 500 K-1s. With K1x, however, "this processing time has fallen to 5 minutes per K-1 or 10 minutes for a particularly difficult K-1"—a 3 to 6x improvement. "K1x's ability to swiftly and precisely pick up the numbers meant that the managed services team could concentrate on reviewing the data", a higher value focus. Despite a yearly 30% increase in volume, the company was able to manage with the same personnel.
K-1 Accuracy:
Error-handling and reporting, which were previously seen as burdensome and hard to manage in OneSource, were also substantially improved. "K1x helps us clear errors. K-1 Analyzer does a validation check to search for any errors that could cause filing rejections," thereby eliminating the need for manual error checks which were both "time-consuming and increased chances for rejections."
Taxable income early estimates:
Moreover, the company found value in using the "K1x platform and its reporting tools to provide our management team answers to questions such as, 'what are we expecting for taxable income, and what is the status of received versus outstanding K-1s?'" By leveraging K1x, the company gained access to income estimates "2 to 3 months earlier than before," making it an invaluable tool for strategic and financial planning.
By leveraging K1x, the company gained access to income estimates "2 to 3 months earlier than before," making it an invaluable tool for strategic and financial planning.
The transition to automated K-1 processing via K1x resulted in tangible benefits for this large insurance company in the US. This move not only alleviated the strain on the team from the escalating volumes but also enhanced the accuracy, efficiency, and strategic capabilities of the reporting process. This case underscores the transformative power of automation in addressing scalability and efficiency challenges in tax compliance and reporting.
Trusted by more than 8000 organizations, K1x is the only AI-powered platform that streamlines alternative investment data distribution for investors and advisors.
Learn more about how you can streamline, standardize, and simplify your K-1 process.